Vehicle Maintenance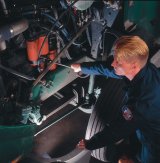 Comprehensive skills training for automotive and diesel engine mechanics.
Spanning everything from entry-level basics to advanced topics for seasoned mechanics, Penn Foster's vehicle maintenance curricula offer comprehensive training in automotive and diesel engine maintenance.
Developed primarily for individuals responsible for the upkeep and operation of service industry, public transportation, and company-owned fleets, Vehicle Maintenance courseware helps your employees quickly and easily adapt to everyday tasks and responsibilities.
Each of the recommended programs listed below provides busy professionals like your employees a complete package of learning tools customized to their needs, learning styles, and schedules. Like all Penn Foster training systems, Vehicle Maintenance courses are available in print, video or via Computer Based Training (CBT and CD). Click on a link below to learn more about each topical program.
Provides expert training in servicing and troubleshooting electrical systems, automatic transmissions, steering and suspension systems, and computerized engine control systems.
Provides comprehensive training in the service and repair of diesel and gasoline engines.
Provides students with fundamental knowledge and skill-building techniques for success as a professional light duty equipment mechanic.
Provides comprehensive training in the service and repair of diesel engines and maintenance of heavy trucks.