Business Management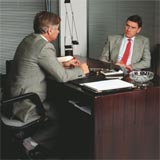 Choose from a variety of versatile courseware for managers and supervisors.
A solid foundation in business skills is essential for job and career success; no matter how long your employees have been at your company and how many years they've been in the workforce. Everyone can benefit from learning about the latest trends and best practices.
Ideal for anyone new to a supervisory or managerial role, or veteran professionals who need refresher courses, Business Management offers your employees the practical skills development and training they need for proficiency in supervisory management, accounting, personal computing, and marketing.
You and your employees can choose from a variety of self-paced topical programs that group together related coursework and are designed for flexibility, addressing the professional and personal needs of each student. Like all Penn Foster training systems, Business Management courses are available in print, video or via Computer Based Training (CBT and CD). Click on a link below to learn more about each topical program.
Introduces important business and management skills to entry-level workers, supervisors, or managers.
Targets newly promoted foremen and supervisors at manufacturing plants with a comprehensive overview of quality control, operations, and supervisory principles.