Supervisor Training and Development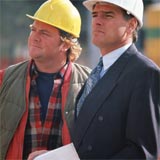 Specialized, online skill development training for plant foremen and supervisors.
Penn Foster's online supervisor training curriculum offers a comprehensive overview of quality control, operations and supervisory principles to create a well-rounded experience with on-the-job results. Through the self-paced program's strong emphasis on continuous improvement, statistical process control and interpersonal strategies, trainees learn the art of becoming a productive and respected supervisor.
For organizations, this online training program makes an excellent addition to your quality improvement plan as it can be applied to real-life, on-the-job scenarios to help newly promoted managers develop the fundamental skills of leadership and management.
Contact a Training Consultant to learn more about our tailored, online supervisor training program. Request more information about workforce development and get started today.
Supervisor Training Course List
Principles of Supervision
Operations/Communications Enhancement
Quality Improvement Concepts and Statistical Process Control
Estimated Curriculum Duration: 346 hours (excluding videos).
Number of Exams: 40.
Receive more information on the Supervisor Training Program
Contact us at 1-800-233-0259 Monday through Friday, between 8:00 a.m. and 5:00 p.m., Eastern Time or speak with your Training Consultant for more information on this program.