Career Certificate Courses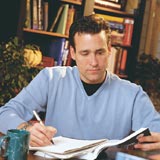 Get credentials for the skills you've learned.
To take your career to the next level it helps to have the credentials to show that you have the skills and expertise to perform up to the task. Workforce Development programs from Penn Foster offer a range of certificate opportunities in business, accounting, computing, and office management to give professionals a leg up in the race for recognition and a better job.
Each course is designed for the learn-on-your-own trainee and consists of one or two study units and periodic progress exams to measure skill advancement. And students are supported by Workforce Development's administration services throughout the duration of their studies.
Click on a course link below to learn more about content, training materials, prerequisites, and course duration.
Business Management
Accounting
General Office Skills
Hospitality Management
Medical and Dental Office Skills
Computer Skills
Desktop Publishing
Career Development Courseware - Media Special Notes
MMP*: Multi-Media Packages; These course packages generally include one or two videotapes, an audio program, self-study textbooks, and a trainer's copy of the textbook, post-assessments with an answer key and a student's course guide.
CBT**/MMP**: Computer-based Training Programs; The courseware materials are delivered primarily by interactive Compact Disks (CD-ROM), accompanied by a textbook; some courses are available on diskette. These programs are purchased through single-user and unlimited user site license options. The same course content is also delivered on the group video programs (see the next note).
Group Video Programs; Consist of a video program, trainer's guide and self-study textbooks.
Instructor Binders; Contain detailed instrucional material, handouts, transparency masters and workbook exercises for trainees; appropriate for on-the-job training in a group setting.
Penn Foster Enrichment Certificate Courses; Consist of one or two study units, a progress examination and students are supported by Penn Foster administration services. Some courses are delivered by diskette-based instruction.
Contact your Training Consultant or the Customer Service Department for listings of course topics and content ("What Students Learn"), media options and pricing

Receive more information on the Career Certificate Courses
Contact us at 1-800-233-0259 Monday through Friday, between 8:00 a.m. and 5:00 p.m., Eastern Time or speak with your Training Consultant for more information on this program.