Sanitary Engineering Technology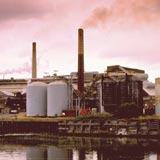 Comprehensive training in surveying, mechanics, and wastewater treatment.
Beginning with a foundation skills training in math, engineering, and safety, the Sanitary Engineering curriculum covers the design and construction of water supply systems, water treatment plants, sewerage systems, sewage treatment plants, and irrigation. Sanitary engineers seeking employment at a construction company, public works department, or an engineering/architectural firm benefit most from the coursework and training.
Take advantage of on-the-job training opportunities to apply the skills learned in the program. Students should have a high school diploma or GED Equivalent Certificate upon enrollment. Those who successfully complete the program can:
Explain the principles associated with linear surveying, transit surveying, topographic surveying, hydrographic surveying and city surveying, and the related engineering applications and operations.
Utilize the principles of chemistry and bacteriology as they apply to water treatment and purification.
Design and coordinate the construction of projects and systems related to the environment.
You can work with your Training Consultant to devise an individualized program or follow the complete Sanitary Engineering course list below.
Sanitary Engineering Course List
Mathematics and Technical Foundation Skills
Introduction to Surveying and Mapping Principles
Water/Wastewater Treatment: Concepts and Applications
Advanced Surveying Skills
Estimated Curriculum Duration: 1,012 hours.
Number of Exams: 89.
Receive more information on the Sanitary Engineering Training Program
Contact us at 1-800-233-0259 Monday through Friday, between 8:00 a.m. and 5:00 p.m., Eastern Time or speak with your Training Consultant for more information on this program.