Chemical Engineering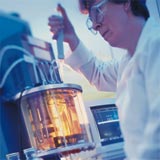 Offers technical training for positions in chemical plants and in various processing industries.
Students have initial coursework in math and technical foundation skills, then tackle analytical chemistry, organic chemistry, thermodynamics, unit operations (filtration and distillation), qualitative and quantitative analysis, and instrumentation.
Ideal for professional Chemical Engineers, the curriculum is also suitable for Research and Development Engineers, Chemical Production Managers, Chemical Plant Engineers, and Field Sales/Service Technicians for chemical equipment.
Prior to enrollment, students must be high school graduates or possess a GED Equivalency Certificate. Program graduates will be able to:
Describe the principles of inorganic and organic chemistry and basic physics.
Identify the applications of fluid mechanics, heat and metallurgy and compare them to the chemical process.
Identify what happens to liquid, solid, and gaseous elements and materials as they are exposed to chemical processes utilized in industry manufacturing operations.
Perform analytical experiments and laboratory tests related to common chemical elements.
Explain the chemical properties and industrial applications of plastics.
You can work with your Training Consultant to devise an individualized program or follow the complete Chemical Engineering course list below.
Chemical Engineering Course List
Mathematics and Technical Foundation Skills
Principles of Mechanics
Principles of Advanced Chemistry
Principles of Thermodynamics
Advanced Mathematics
Unit Operations
Chemical Analysis Techniques
Introduction to Polymers
Instrumentation and Process Control
Engineering Managerial Concepts
Estimated Curriculum Duration: 1,819 hours (excluding videos).
Number of Exams: 191.
Optional: Electrical Maintenance Principles and Electrical Motors
Estimated Duration: 160 hours (excluding optional lab experiments).
Number of Exams: 25.
Optional: Mechanical Systems Operations and Maintenance
Estimated Duration: 75 hours.
Number of Exams: 9.
Optional: Steam Engine Principles
Estimated Duration: 30 hours.
Number of Exams: 3.
Receive more information on the Chemical Engineering Program
Contact us at 1-800-233-0259 Monday through Friday, between 8:00 a.m. and 5:00 p.m., Eastern Time or speak with your Training Consultant for more information on this program.