Meter Reader Training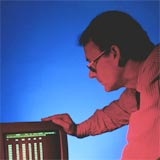 Pre-technical and skill-specific training for novice and experienced meter readers.
Make sure your employees get the instruction and hands-on experience they need for on-the-job success as a professional Meter Reader. Developed for both an apprenticeship and skill development program, the print-based curriculum begins with mathematics courses on how to perform essential electrical calculations. Progressing into skill-specific courseware, trainees learn about AC and DC theory, then gain a working knowledge on components, equipment, and electrical power distribution systems.
Customize the curriculum according to the requirements of specific Meter Reader positions in your organization: Electrical Meter Reader, Meter Technician, or Relay and Meter Reader Specialist. And further their career potential with supplemental on-the-job training opportunities. Students who successfully complete the Meter Reader program can :
Perform calculations using algebra, geometry, and trigonometry.
Understand the principles and components associated with AC and DC electricity.
Perform efficiency tests on transformers and AC and DC machines.
Select the proper type of test equipment for general electrical/electronic measurement techniques.
Explain the functions of common electronic components used in utilities meters.
List the types of devices that are part of an assembled switchgear.
Describe the functions of the equipment used in power distribution stations.
You can work with your Training Consultant to devise an individualized program or follow the complete Meter Reader Training course list below.
Meter Reader Training Course List
Pre-Technical Foundation Skills
Electrical Skills and Principles
Electrical Power Distribution Systems - Operations and Skills
Optional Laboratory Experiments:
Estimated Curriculum Duration: 534 hours (excluding videos and optional lab experiments).
Number of Exams: 70.
Receive more information on the Meter Reader Training Program
Contact us at 1-800-233-0259 Monday through Friday, between 8:00 a.m. and 5:00 p.m., Eastern Time or speak with your Training Consultant for more information on this program.