Lineman School and Powerlineman Apprenticeship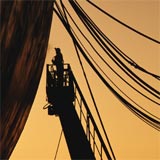 For entry-level and experienced utilities employees.
Ensure your company shines brighter than the rest with all-star employees that exude professionalism. With a comprehensive apprenticeship program as part of your company's skill development offerings, you'll not only prove your commitment to employee development but you'll also ensure your organization is properly represented.
Penn Foster's Electrical Lineman Training curriculum embraces all skill levels with a curriculum that offers courses for both beginners and experts. To start, the program includes pre-technical courseware in mathematics for electrical calculations. Students then move forward to learn AC and DC applications. Upon demonstrating understanding of basic skills, the curriculum transitions into comprehensive utility lineman training sessions that include installation, operation and maintenance of overhead and underground power lines. To fit in with busy work schedules, the programs are highly versatile to provide students with flexible class options. Best of all, you can combine their classroom learnings with on-the-job training to thrust their careers into high-gear.
Improve on-the-job performance by speaking with your Training Consultant about how to devise a tailored lineman training program.
Electrical Lineman Training Course List
Pre-Technical Foundation Skills
Electrical Skills and Principles
Lineman Skills and Equipment Knowledge
Electric Power Distribution, Transmission and Systems - Operations and Skills
Optional Laboratory Experiments:
Estimated Curriculum Duration: 812 hours (excluding videos and optional lab experiments).
Number of Exams: 95.
Receive more information on the Electrical Lineman Training Program
Contact us at 1-800-233-0259 Monday through Friday, between 8:00 a.m. and 5:00 p.m., Eastern Time or speak with your Training Consultant for more information on this program.