Industrial Safety Training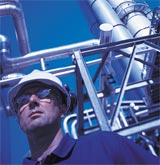 Help your employees develop a working understanding of industrial safety standards, laws, and practices.
Secure your company's future by ensuring safety standards are up to par with state law. Recommending the industrial safety training programs to all employees including electrical workers, machine tool operators, laboratory personnel and anyone handling hazardous chemicals or materials equips your organization with learned associates.
Training courses offered by Penn Foster help to promote a safe and healthy working environment. Through the programs, busy professionals like those in your organization, can benefit from a complete package of learning tools customized to fit individual learning styles. From entry-level workers to supervisors, have peace-of-mind knowing all employees are not only well-versed about common health and safety risks but also have the necessary knowledge to minimize hazards and comply with standard safety procedures.
Connect with your Training Consultant to learn more about our industrial safety courses. Develop the right plan and make safety a priority.
Provides the core concepts and common practices of industrial workplace safety.