Milling Machine Operator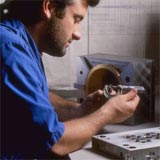 Targeted to beginning and experienced milling machine operators.
Developed for students who already have the subject knowledge covered in the Metal Cutting Specialist program, the courseware here enables trainees to improve their skills and expand their expertise in milling machine, lathe, grinding machine, and NC/CNC equipment operations.
Machine shop safety is an important part of the program. Students who complete the program will know how to:
Select the proper type of milling machine, grinder, and the proper measuring instruments.
Determine the setup for a particular job and select the proper cutting or grinding tools.
Compute the proper cutting speeds and feeds.
Identify the components of and how numerical control/computerized numerical control (NC/CNC) systems work.
Describe the procedure for troubleshooting an NC/CNC job.
Explain the procedure for first piece machining.
Describe internal and external turning operations.
Explain the automatic threading operations.
Describe the procedure for cutting a taper.
You can work with your Training Consultant to devise an individualized program or follow the complete Milling Machine Operator Training course list below.
Milling Machine Operator Course List
Precision Measuring Instruments, Part 1

186068

Precision Measuring Instruments, Part 2

186069

Precision Measuring Instruments, Part 3

186072

Machine Shop Safety

186007

Milling Machine Fundamentals

386031

Milling Machine Cutting Tools

386032

Milling Machine Practice and Operation, Part 1

386033

Milling Machine Practice and Operation, Part 2

386034

Milling Machine Indexing and Spiral Work

386035

Toolholding Systems

386028

CNC Technology and Programming

066903

CNC Turning

386041

CNC Milling

386042

Nontraditional Machining Technologies

386029

Quality Control for the Technician

386E02

Geometric Dimensioning and Tolerancing

386E01

Lubrication, Part 1

286091

Lubrication, Part 2

286092

Lathes, Part 1

386036

Lathes, Part 2

386037

Lathes, Part 3

386038

Lathes, Part 4

386039

Lathes, Part 5

386040

Turret Lathes

3525A

Turret Lathe Tools and Setups

2213

Automatic Screw Machines

3530A-B

Fundamentals of Grinding

386016

Surface Grinding, Part 1

386012

Surface Grinding, Part 2

386013

Cylindrical Grinding, Part 1

386010

Cylindrical Grinding, Part 2

386011

Tool Grinding

386017

Boring Mills

5636A

Planers

6118

Broaching

6091

Shapers, Slotters, and Keyseaters

2222
Estimated Curriculum Duration: 450 hours. Number of Exams: 46.

Receive more information on the Milling Machine Operator Training Program
Contact us at 1-800-233-0259 Monday through Friday, between 8:00 a.m. and 5:00 p.m., Eastern Time or speak with your Training Consultant for more information on this program.