Field Service Technician Training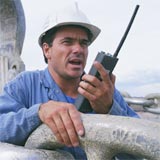 Provides technicians with a baseline of knowledge and skills.
The Field Service Technician Training program provides technicians with the core fundamentals they need to perform and covers both business and technical subjects, giving students an understanding of safety procedures, math, business communications, and software applications.
Trainees will be able to:
Sharpen verbal communication skills and write effective letters and reports.
Perform basic arithmetic functions.
Diagnose problems using common troubleshooting techniques and advise operators how to properly maintain their equipment.
Understand the capabilities, functions, and use of personal computers and software applications.
This program is designed as core training for all people employed in the Field Service Technician profession. For customized knowledge and skills training, please see, Electrical Field Service Technician, Electronics Field Service Technician, and Mechanical Field Service Technician.
You can work with your Training Consultant to devise an individualized program or follow the complete Field Service Technician Training course list below.
Field Service Technician Training Course List
Optional Personal Computing Training:
Help sure your field service technicians become proficient using Personal Computers and the software applications used within your organization, including the Windows operating system, word processing and spreadsheets. Please see Resource 1, Career Development, for a list of applicable courses.
Optional Human Resource Skills Training
Make sure your field service technician receive structured training in specific Human Resource Skills disciplines, such as Problem Solving, Communication (verbal and written), Listening, Customer Service and Time Management. Please see Resource 1, Career Development, for a list of the applicable courses.
Estimated Program Duration: 223 hours.
Number of Exams: 31.
Receive more information on the Field Service Technician Training Program
Contact us at 1-800-233-0259 Monday through Friday, between 8:00 a.m. and 5:00 p.m., Eastern Time or speak with your Training Consultant for more information on this program.