Land Surveyor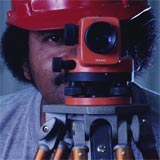 Provides technical training to Surveyors and Topographic Drafters.
Designed to prepare individuals for state certification program/examinations, this print-based Land Surveyor curriculum is ideal for surveyors, drafters, and also civil engineers employed in public works departments, manufacturing or construction companies. It begins with a topical overview of mathematics and principles of measurement. Subsequent coursework trains students to perform linear, transit, topographic, hydrographic, and city surveying.
Taken together with valuable on-the-job training, Land Surveyor is a valuable first step on a career path. All trainees should be high school graduates or a have a GED Equivalent Certificate prior to enrollment. Successful program graduates are able to:
Discuss the principles involved in measuring lengths and angles used in surveying.
Identify and use the various common surveying instruments.
Explain the fundamentals of law for surveyors.
Describe the methods used to perform topographic and city surveying.
Explain the surveying techniques used for laying out highways and highway curves.
Read and interpret architects' drawings and construction blueprints.
You can work with your Training Consultant to devise an individualized program or follow the complete Land Surveyor course list below.
Land Surveyor Course List
Mathematics and Technical Foundation Skills
Introduction to Surveying and Mapping Principles
Advanced Surveying Skills
Estimated Curriculum Duration: 692 hours.
Number of Exams: 51.
Receive more information on the Land Surveyor Program
Contact us at 1-800-233-0259 Monday through Friday, between 8:00 a.m. and 5:00 p.m., Eastern Time or speak with your Training Consultant for more information on this program.