Pulp and Paper Technician / Engineer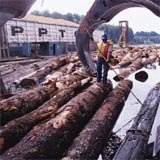 Builds technical expertise in pulp preparation and paper manufacturing.
Pulp and paper mill production supervisors and technicians receive a firm grounding and applied instruction on the preparation of pulp and its uses in the manufacture of paper. Developed to meet requirements for any organization's skill development program, this flexible apprentice curriculum is great for plant engineering staff involved in mill machinery, too!
Taken together with valuable on-the-job training, Pulp and Paper Technician / Engineer training is a valuable first step on a career path. A high school diploma or GED Equivalent Certificate is required for all participating students. Upon successful completion of the program, they'll be able to:
Understand the creation of the preparation of pulp from wood, rags, and other fibrous materials.
Study various common pulping processes: mechanical, semi-chemical and chemi-mechanical, sulfite and alkaline.
Utilize various common processes related to pulp preparations: deinking, pulp testing, process control, coating, and waste utilization.
Describe the operation of common paper making and pulp preparation machinery and equipment; fourdrinier and cylinder machines, dryers, calendars, reeling and winding equipment, and their control instrumentation.
You can work with your Training Consultant to devise an individualized program or follow the complete Pulp and Paper Technician / Engineer course list below.
Pulp and Paper Technician / Engineer Course List
Mathematics and Technical Foundation Skills
Principles of Chemistry and Physics
Basic Mechanical Principles
Pulp and Paper Manufacturing Applications and Concepts
Estimated Curriculum Duration: 653 hours (excluding video).
Number of Exams: 63.
Receive more information on the Pulp and Paper Technician / Engineer Program
Contact us at 1-800-233-0259 Monday through Friday, between 8:00 a.m. and 5:00 p.m., Eastern Time or speak with your Training Consultant for more information on this program.