Civil Engineering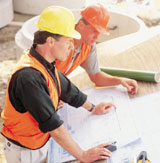 Helps trainees build technical proficiency for three engineering professions.
Civil Engineering provides surveyors and engineers at construction companies, public work departments and transportation companies with comprehensive training and firm grounding in fundamental principles for better on-the-job performance.
Students discover how to perform land and construction surveys and prepare topographic maps and right-of-way layouts. Finally, they learn about the design and construction of buildings, bridges, roads, tunnels, water supply, and sewerage systems.
Students should have their high school diploma or a GED Equivalent Certificate before enrollment. Successful program graduates are able to:
Explain the principles associated with linear surveying, transit surveying, topographic surveying, hydrographic surveying and city surveying, and the related engineering applications and operations.
Design, detail, and construct using structural steel, reinforced concrete and wood.
Apply mathematical and scientific principles in the engineering context.
Design and detail foundations, steel and concrete building frames, roof trusses, plate girders, flat slabs, retaining walls, masonry arches, rigid frames, and steel bridges.
Design, prepare, and construct roads paved with concrete and asphalt.
You can work with your Training Consultant to devise an individualized program or follow the complete Civil Engineering Training Program course list below.
Civil Engineering Course List
Mathematics and Technical Foundation Skills
Advanced Surveying Skills
Design and Construction Applications for Roads
Advanced Mathematics
Engineering Managerial Skills
Design and Construction Applications for Buildings, Tunnels, and Bridges
Design and Construction Applications for Water Supply Systems
Estimated Curriculum Duration: 1,727 hours (excluding video).
Number of Exams: 148.
Receive more information on the Civil Engineering Training Program
Contact us at 1-800-233-0259 Monday through Friday, between 8:00 a.m. and 5:00 p.m., Eastern Time or speak with your Training Consultant for more information on this program.