Basic Computer Training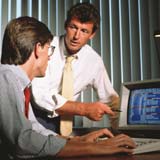 Builds proficiency in personal computing skills through online, self-paced training
Regardless of their experience and position, all employees should have some level of proficiency in personal computing skills to excel in their current job and maintain their competitiveness for career advancement.
From application software to operating systems to the Internet, this online course library spans a wide range of skill sets and caters to a variety of interests. Hard-to-digest technical manuals are nowhere to be found and most application courses-such as Microsoft Excel or Word-introduce beginning, intermediate, and advanced training topics separately to help learners transition smoothly to the next level at their own pace.
For your convenience, courses can also be delivered through a Network site license. Contact your Training Consultant for details. Click on a link below to learn more about a specific course, its content, delivery method, and software requirements.
Desktop Operating Systems
Microsoft Windows XP,(Professional, Small Office Networking, and Home editions)
Microsoft Windows 2000, ME, 98
Microsoft Windows NT 4
Microsoft DOS V6.2
Apple Macintosh
Suites
Microsoft Office 2000, 97
Lotus SmartSuite Millennium, 97
Word Processing
Microsoft Word 2002, 2000, 97
Lotus Word Pro Millennium, 97
Corel WordPerfect 9, 8
Spreadsheet
Microsoft Excel 2002, 2000, 97
Lotus 1-2-3 Millennium, 97
Presentation Graphics
Microsoft PowerPoint 2002, 2000, 97
Lotus Freelance Millennium, 97
Desktop Publishing
Adobe Photoshop 6
Microsoft Publisher 2000
Database
Microsoft Access 2002, 2000, 97
Lotus Approach Millennium, 97
Internet
Microsoft Internet Explorer 6, 5.5, 5, 4
Microsoft FrontPage 2002, 2000
Netscape Communicator 4.7, 4.5, 4
GroupWare
Lotus Notes 5, 4.6, 4.5
Microsoft Outlook 2002, 2000, 98
Network Operating Systems
Microsoft Windows NT 4
LANS with Data Communications
Web Site Development Programming
Web Design Fundamentals
HTML Fundamentals, Advanced
Dreamweaver 4, 3
Productivity
Accounting
Organizer
Lotus Millennium, 97
Project Manager
Typing
Personal Computing Special Notes:
Course Media options: Diskette (CBT), Compact Disc, (CD), Video, Self-study Print with diskettes and/or applications software (some courses only). Most applications courses cover introductory, intermediate and advanced training topics separately.
Courses can be delivered through: Network site licenses (intranets), Single and multiple user Compact Discs, Internet.
Training diskettes and videos for previous software versions and Macintosh applications are generally available upon request.
Mastery testing is built into most courses and post-tests can be developed using our computerized testing capability. Penn Foster student record keeping services or administrative software bundled by selected courseware providers are also available.
Contact your Training Consultant or the Customer Service Department for listings of course topics and content ("What Students Learn"). They are able to provide you with the specific systems requirements for loading each course.


Receive more information on the Basic Computer Training Program
Contact us at 1-800-233-0259 Monday through Friday, between 8:00 a.m. and 5:00 p.m., Eastern Time or speak with your Training Consultant for more information on this program.