Mechanical Maintenance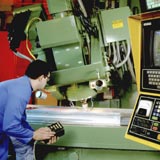 Comprehensive Training Systems For Mechanics, Technicians, And Mechanical Systems Specialists.
New mechanical maintenance strategies such as TPM and preventive maintenance are placing new demands on mechanics, technicians, and other mechanical systems specialists to upgrade their skills as quickly and efficiently as possible in order to maintain job security and enhance their chances for career advancement.
Industrial Mechanics introduces trainees to what they need to know to perform well on the job immediately, with minimal learning curve. Key subjects include: bearings, seals, and lubrication; hydraulics and pneumatics; mechanical power transmission systems; and robotics.
You and your employees can choose from a variety of self-paced topical programs that group together related coursework and are designed for flexibility, addressing the professional and personal needs of each student. Like all Penn Foster training systems, Industrial Mechanic courses are available in print, video or via Computer Based Training (CBT and CD). Click on a link below to learn more about each topical program.
APPRENTICESHIP PROGRAMS
Provides comprehensive training in mechanical maintenance principles, fluid power and hydraulic systems.
Gives trainees a solid foundation in mechanical maintenance principles and applications, and the operations of the machinery and equipment used in power transmission systems.
Provides the specifics of refrigeration principles, heating, plumbing, and pipefitting.
Provides comprehensive training to prepare apprentices for the Black Seal License.
Introduces trainees to the preparation and design of milling machinery.
Designed to meet the standards established by the Bureau of Apprenticeship and Training (BAT).
Focuses on pipefitting, HVAC and electrical equipment and systems.
TOPICAL PROGRAMS
Introduces concepts of operations, maintenance, and troubleshooting of hydraulic and fluid power systems.
Covers the theory and instructional skills of maintaining production line equipment.
Provides the theory and fundamentals of thermodynamics, and the design and operation of boilers.
Trains workers for firer positions in a steam or electric power plant.
Introduces both the educational and technical aspects of working in a process manufacturing plant.
Covers technical concepts and skills to help troubleshoot power transmission, fluid power, pneumatic and process control systems.
Receive more information on the Industrial Mechanics Programs from Workforce Development
Contact us at 1-800-233-0259 Monday through Friday, between 8:00 a.m. and 5:00 p.m., Eastern Time or speak with your Training Consultant for more information on this program.