Industrial Safety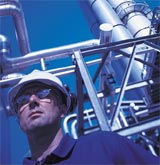 Help your employees develop a working understanding of industrial safety standards, laws, and practices.
Maintaining a safe and healthy working environment is not only an important human resources issue, it's the law. Whether they're entry-level workers, seasoned veterans, supervisors, or plant managers, your employees need to understand health and safety risks, the steps they need to take to minimize those risks, and common safety standards and compliance procedures. Recommend the industrial safety training programs to electrical workers, machine tool operators, laboratory personnel, and anyone handling hazardous chemicals or materials.
Each of the recommended programs listed below provides busy professionals like your employees a complete package of learning tools customized to their needs, learning styles, and schedules. Like all Penn Foster training systems, Industrial Safety Training courses are available in print, video or via Computer Based Training (CBT and CD). Click on a link below to learn more about each topical program.
Provides the core concepts and common practices of industrial workplace safety.