Power Plant Operator Training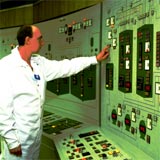 Provides general skills training for electric, hydroelectric, steam and nuclear power plan operations.
Ideal as an apprenticeship program or as part of your organization's skills development program, this versatile curriculum appeals to both entry level and experienced employees. No matter what their position, Dispatcher, Generating Station Operator, Plant Relayman, or Power Plant General Instrument Mechanic, your employees can get the customized training they need for professional success.
The Power Plant Operator Training courseware covers power plant machinery and equipment, including generators, motors, switchgear, protective relaying, and electric power generation, transmission, and distribution. Initially, trainees receive pre-technical instruction in measurements and mathematics to help them better understand how to operate the machinery that generates electricity. Scientific, mechanical technologies, and electrical/electronics courses help them build a technical foundation for utilities machinery and equipment operation and maintenance. Optional courseware is also available for hydroelectric and nuclear power plant workers.
Be sure to organize on-the-job training opportunities to help your employees apply the skills they acquire from the courseware described here. Students who successfully complete the Power Plant Operator Training program can:
Understand the principles, components and measuring instruments associated with AC and DC electricity.
Understand the operation and control of the common motors and generators found in utilities.
Differentiate between distribution and power transformers by construction and application.
Discuss the application of protective relays to protect motors, generators, buses and transformers.
Understand the purpose and operation of the various equipment used in electric power generating stations.
Describe the functions of the equipment used in power distribution stations.
Explain the principles of operation of the various types of steam generators.
Describe the methods used to regulate the voltage of distribution systems.
You can work with your Training Consultant to devise an individualized program or follow the complete Power Plant Operator Training course list below.
Power Plant Operator Training Course List
Pre-Technical Foundation Skills
Scientific Principles
Mechanical Technologies and Maintenance
| | |
| --- | --- |
| Engineering Mechanics, Part 1 | 286036 |
| Engineering Mechanics, Part 2 | 286037 |
| Engineering Mechanics, Part 3 | 286038 |
| Engineering Mechanics, Part 4 | 286039 |
| Fluid Mechanics, Part 1 | 286010 |
| Fluid Mechanics, Part 2 | 286011 |
| Fluid Mechanics, Part 3 | 286012 |
| Pumps, Part 1 | 286001 |
| Pumps, Part 2 | 286002 |
| Pumps, Part 3 | 286003 |
| Air Compressors, Part 1 | 286013 |
| Air Compressors, Part 2 | 286014 |
| Bearings and Seals, Part 1 | 286093 |
| Bearings and Seals, Part 2 | 286094 |
| Lubrication, Part 1 | 286091 |
| Lubrication, Part 2 | 286092 |
| Mechanical Power Transmission | 286015 |
| Mechanical Testing of Materials | 2608A-B |
Blueprint Reading
Electrical/Electronics Principles and Equipment
Electric and Steam Power Generation Plants - Equipment Operation and Maintenance
Electrical Equipment Applications Used in the Utilities Industry - Operations and Maintenance
Transmission and Distribution of Electric Power
Optional: Hydro-Electric, Nuclear Power Plant Operations
Estimated Curriculum Duration: 1,386 hours (excluding videos).
Number of Exams: 162.
Receive more information on the Power Plant Operator Training Program
Contact us at 1-800-233-0259 Monday through Friday, between 8:00 a.m. and 5:00 p.m., Eastern Time or speak with your Training Consultant for more information on this program.