Supervisor Training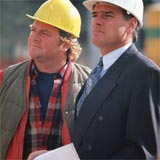 Specialized skill development training for plant foremen and supervisors.
A new promotion means more challenges and more responsibilities. The Supervisor Training curriculum targets newly promoted foremen and supervisors at manufacturing plants with a comprehensive overview of quality control, operations, and supervisory principles. Or, include this program in your organizational quality improvement plan and recommend it to experienced supervisors who need to brush up on fundamental skills.
With a strong emphasis on continuous improvement, statistical process control, and the principles and applications of quality, the courseware teaches students the day-to-day job tasks and interpersonal strategies to become a productive and respected supervisor. They'll learn proven managerial concepts, effective verbal and written communications skills, the latest employee development techniques, and more.
Upon completion of the Supervisor Training program, students will be able to:
Discuss the concepts and skills that a first-level supervisor uses in their daily responsibilities including: managerial concepts, how to plan, organize, and control; the process of motivation; employee relations; training, communication, and coordination; cost control and work simplification.
Sharpen their verbal communication skills.
Write effective letters, reports, and proposals.
Be a contributing leader/member of an organizations quality improvement team, by understanding and communicating the accepted concepts and techniques.
Learn and implement the principles of statistical process control within their organization.
Learn and understand the use of quality measurement tools and measurement inspection methods.
You can work with your Training Consultant to devise an individualized program or follow the complete Supervisor Training course list below.
Supervisor Training Course List
Principles of Supervision
Operations/Communications Enhancement
Quality Improvement Concepts and Statistical Process Control
Estimated Curriculum Duration: 346 hours (excluding videos).
Number of Exams: 40.
Receive more information on the Supervisor Training Program
Contact us at 1-800-233-0259 Monday through Friday, between 8:00 a.m. and 5:00 p.m., Eastern Time or speak with your Training Consultant for more information on this program.