Draftsman Training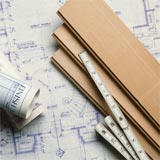 For beginners learning the fundamentals of mechanical drawing.
Students begin with math, measurements, and safety (Prior to enrollment, they must demonstrate a working knowledge of computer applications taught in Career Development). Basic drafting courses follow and are required before starting on mechanical drawing and applied technologies. Here, trainees learn about basic physics, measuring instruments, and materials testing, and get practical training on drawing and drafting techniques. The Draftsman Training program requires all students to complete forty-five drawing plates.
Successful program graduates are qualified as entry level Detailers, General Drafters, Detail Drafters, and Layout Drafters and can:
Understand geometrical terms, lines, angles, triangles, circles, lettering, and projections used in geometrical, mechanical, and projection drawing/drafting.
Understand the uses of the equipment and materials associated with mechanical drawing.
Draw in detail the component parts that make up a typical mechanical power transmission system.
Draw industrial applications of sheet metal.
Describe the principles of mechanical technology, physics, and advanced mathematical calculations and measurements as they relate to mechanical drafting skills.
You can work with your Training Consultant to devise an individualized program or follow the complete Draftsman Training course list below.
Draftsman Training Course List
Pre-Technical Foundation Skills
Basic Drafting Skills and Practices
Mechanical Drafting and Applied Technologies
Estimated Curriculum Duration: 1,106 hours (excluding videos).
Number of Exams: 37.
Optional: AutoCAD
| | |
| --- | --- |
| AutoCAD® Release 14 (Video) | VB65XX |
Receive more information on the Draftsman Training Program
Contact us at 1-800-233-0259 Monday through Friday, between 8:00 a.m. and 5:00 p.m., Eastern Time or speak with your Training Consultant for more information on this program.