Electrical Lineman Training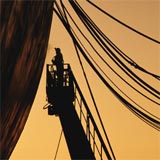 For entry-level and experienced utilities employees.
Perfect as a comprehensive apprenticeship program or as part of your company's skill development offerings, the Electrical Lineman Training curriculum begins with pre-technical courseware in mathematics for electrical calculations as well as numerous courses in fire and electrical safety. Successful students move on to AC and DC principles and their applications. And finally they're into heart of the program, utility lineman specific courses on the installation, operation, and maintenance of overhead and underground power lines.
Versatility is an Penn Foster hallmark. You can pick and choose courses and build a customized program for a variety of utilities positions, including Electrical Lineman, Lineman/Cableman, Power Line Design, and Construction Specialist. And be sure to include on-the-job training to give your employees the comprehensive training they need to enhance their career prospects. The Electrical Lineman Training program enables them to:
Understand the principles and components associated with AC and DC electricity.
Explain how to set up overhead poles and power lines.
Perform the rigging skills and deploy the proper materials used by a lineman.
Describe how line conductors, distribution transformers, voltage regulators, fuses, and switches work.
Lay conduit and pull/splice electrical cable.
Perform efficiency tests on transformers and AC and DC machines.
Select the proper type of test equipment for a particular electrical/electronic application.
You can work with your Training Consultant to devise an individualized program or follow the complete Electrical Lineman Training course list below.
Electrical Lineman Training Course List
Pre-Technical Foundation Skills
Electrical Skills and Principles
Lineman Skills and Equipment Knowledge
Electric Power Distribution, Transmission and Systems - Operations and Skills
Optional Laboratory Experiments:
Estimated Curriculum Duration: 812 hours (excluding videos and optional lab experiments).
Number of Exams: 95.
Receive more information on the Electrical Lineman Training Program
Contact us at 1-800-233-0259 Monday through Friday, between 8:00 a.m. and 5:00 p.m., Eastern Time or speak with your Training Consultant for more information on this program.