Electrical and Electronics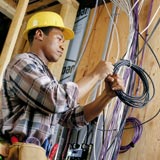 Introducing a full range of apprenticeship and topical programs.
Nowadays, maintenance organizations are constantly faced with a dual challenge: how to upgrade the skills of experienced technicians to deal with the ever-changing demands of new technology, and meeting the needs of new employees through apprenticeship training programs.
Electrical and Electronics Training can help your company rise to these challenges, providing complete curricula for a wide range of topics, everything from basic electricity to microprocessors, and applied skills, such as field service training and equipment maintenance.
You and your employees can choose from a variety of self-paced topical programs that group together related coursework and are designed for flexibility, addressing the professional and personal needs of each student. Like all Penn Foster training systems, Electrical and Electronics courses are available in print, video or via Computer Based Training (CBT and CD). Click on a link below to learn more about each topical program.
Apprenticeship Programs
Print-based curriculum helps trainees master industry-wide subject requirements.
Requires Electrical Maintenance/Plant Electrician Apprentices program as prerequisite.
For electronics technicians with mechanical and electrical maintenance responsibilities.
Provides the training employees need to perform the tasks as a Process Control Technician or an Automated Equipment Engineer.
Topical Programs
Provides a comprehensive foundation in math and measurement, electrical principles and electrical measurements.
Builds a practical, working knowledge of electrical wiring for lighting, equipment, motors, and heating.
Provides the concepts and techniques in the repair of electric motors, motor controllers and generators.
Provides an introduction to soldering and desoldering.
Provides comprehensive electronics training for various entry-level and mid-level careers in Electronics Technology.
Program focuses on maintenance and troubleshooting methods and techniques.
Combines a conceptual understanding of industrial control, electronic instrumentation equipment, and how microprocessors function.
Builds a better understanding of the components of a process control system for electronic and instrumentation technicians.
Provides instruction in electrical principles, components and equipment used by your customers.
Helps technicians understand the electrical principles, components and equipment used by your customers.
Ideal for learning how to troubleshoot circuits, microprocessors, and control systems.
Covers electrical installation, operation, and maintenance for residential and commercial buildings.
Receive more information on the Electrical and Electronics Program
Contact us at 1-800-233-0259 Monday through Friday, between 8:00 a.m. and 5:00 p.m., Eastern Time or speak with your Training Consultant for more information on this program.